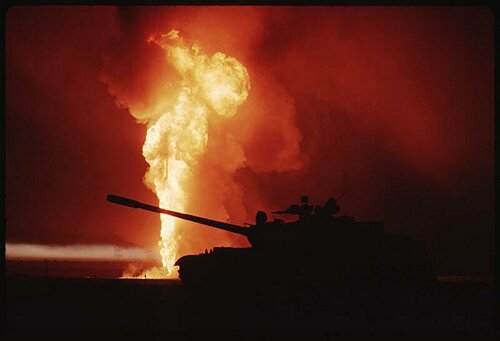 Michael Klare at TomDispatch
discusses one of the fringe benefits of the War on Terra for the oil barons: the acceleration of oil depletion.
Parts of this are reproduced here:
Sixteen gallons of oil. That's how much the average American soldier in Iraq and Afghanistan consumes on a daily basis -- either directly, through the use of Humvees, tanks, trucks, and helicopters, or indirectly, by calling in air strikes. Multiply this figure by 162,000 soldiers in Iraq, 24,000 in Afghanistan, and 30,000 in the surrounding region (including sailors aboard U.S. warships in the Persian Gulf) and you arrive at approximately 3.5 million gallons of oil: the daily petroleum tab for U.S. combat operations in the Middle East war zone.

Multiply that daily tab by 365 and you get 1.3 billion gallons: the estimated annual oil expenditure for U.S. combat operations in Southwest Asia. That's greater than the total annual oil usage of Bangladesh, population 150 million -- and yet it's a gross underestimate of the Pentagon's wartime consumption.

Such numbers cannot do full justice to the extraordinary gas-guzzling expense of the wars in Iraq and Afghanistan. After all, for every soldier stationed "in theater," there are two more in transit, in training, or otherwise in line for eventual deployment to the war zone -- soldiers who also consume enormous amounts of oil, even if less than their compatriots overseas. Moreover, to sustain an "expeditionary" army located halfway around the world, the Department of Defense must move millions of tons of arms, ammunition, food, fuel, and equipment every year by plane or ship, consuming additional tanker-loads of petroleum. Add this to the tally and the Pentagon's war-related oil budget jumps appreciably, though exactly how much we have no real way of knowing.

And foreign wars, sad to say, account for but a small fraction of the Pentagon's total petroleum consumption. Possessing the world's largest fleet of modern aircraft, helicopters, ships, tanks, armored vehicles, and support systems -- virtually all powered by oil -- the Department of Defense (DoD) is, in fact, the world's leading consumer of petroleum. It can be difficult to obtain precise details on the DoD's daily oil hit, but an April 2007 report by a defense contractor, LMI Government Consulting, suggests that the Pentagon might consume as much as 340,000 barrels (14 million gallons) every day. This is greater than the total national consumption of Sweden or Switzerland...

...To ensure itself a "reliable" source of oil in perpetuity, the Pentagon will increase its efforts to maintain control over foreign sources of supply, notably oil fields and refineries in the Persian Gulf region, especially in Iraq, Kuwait, Qatar, Saudi Arabia, and the United Arab Emirates. This would help explain the recent talk of U.S. plans to retain "enduring" bases in Iraq, along with its already impressive and elaborate basing infrastructure in these other countries.

The U.S. military first began procuring petroleum products from Persian Gulf suppliers to sustain combat operations in the Middle East and Asia during World War II, and has been doing so ever since. It was, in part, to protect this vital source of petroleum for military purposes that, in 1945, President Roosevelt first proposed the deployment of an American military presence in the Persian Gulf region. Later, the protection of Persian Gulf oil became more important for the economic well-being of the United States, as articulated in President Jimmy Carter's "Carter Doctrine" speech of January 23, 1980 as well as in President George H. W. Bush's August 1990 decision to stop Saddam Hussein's invasion of Kuwait, which led to the first Gulf War -- and, many would argue, the decision of the younger Bush to invade Iraq over a decade later.

Along the way, the American military has been transformed into a "global oil-protection service" for the benefit of U.S. corporations and consumers, fighting overseas battles and establishing its bases to ensure that we get our daily fuel fix. It would be both sad and ironic, if the military now began fighting wars mainly so that it could be guaranteed the fuel to run its own planes, ships, and tanks -- consuming hundreds of billions of dollars a year that could instead be spent on the development of petroleum alternatives.
Mr. Klare, it's not a bug, it's a feature of the long-term Bu$hCo-Cheneyburton plan with the Royal House of Saud.